This is our newest service, we have been getting a lot of requests for projectors, lighting, LED video walls and sound systems to be installed. Care is taken in designing the proper system for your Auditorium, student center, theater, house of worship or gymnasium. Having numerous years of temporary installations, we have decided to accommodate the requests. We are capable of permanently installing anything that is pictured on this website. Installations of audio, video and lighting takes a good design plan to meld the three. We have a certified electrician and licensed carpenters, so the equipment will be installed according to code. Something to consider when selecting a company to install a lighting, audio or video system is do they have knowledge of using the equipment with actual events and presentations. This is important in order to know all of the capabilities of the equipment. Below you will find some pictures of recent installs we have performed. Just call or email to schedule us to come out and visit your site for a free estimate.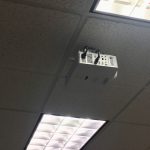 Basic projector install
Installed here is a Optoma projector with remote source input. This is mounted seamlessly into a drop ceiling with full remote support.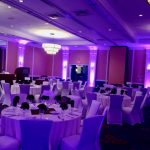 Hotel ballroom uplighting installation
Installed here are Chuavet Freedom Par Uplights. They feature total wireless control.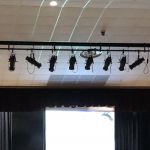 SCHOOL AUDITORIUM LIGHTING INSTALLATION
Pictured here are Chuavet Ovation LED Ellipsodial lights. This system features full DMX control.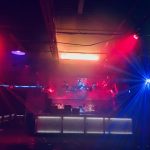 NIGHT CLUB DANCE LIGHTING INSTALL
This features various Chuavet and Elation dance lights. All lights are on full DMX control.
Audio System Theatre Installation
Installed here is a state of the art, hybrid system that provides 5.1 surround sound for movie playback and switches to a PA system for live theatre. Care was taken with this system to make it as user friedly as possible.
Serving Bridgeport, Brookfield, Danbury, Fairfield, Greenwich, New Haven, Hartford, Stamford, Madison, Waterbury.