We offer a large variety of projector and screen combinations. When selecting a projector and screen package, you want to take into consideration your room size and ceiling height. In order for a large screen to be setup, you must have adequate ceiling height. The three most popular screens are tripod, pullup and fast fold. A tripod is usually selected for a small or medium sized room. Pullup screen is used for medium to large room sizes and a fast fold for large ballrooms. Projector type is also a important consideration, a short throw can go close to the screen and eliminates the problem of people walking in front of the projector. If a large screen is desired then a powerful projector with a high degree of brightness should be selected with a minimum of 5,000 lumens. Below are some of our standard package combinations. All packages include delivery and setup, a onsite technician is a additional cost. Our projector and screen rentals in Connecticut are not a additional charge.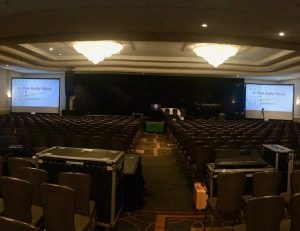 Double rear screens w/large projectors
Includes two large 9 x 12 rear projection screens with two short throw projectors and hdmi splitter. Larger projectors are available for this setup.
Serving Bridgeport, Brookfield, Danbury, Fairfield, Greenwich, New Haven, Hartford, Stamford, Madison, Waterbury.