A Plus offers stages from heights of twelve inches up to five feet.When selecting a stage it is important to consider how much weight you intend to have on stage and weather or not the ground it will be placed on is even or not. Extreme weight or uneven ground can considerably effect the estimated price.When the ground is uneven the difficulty of leveling the stage is increased. Another factor to take into consideration is the access to where the stage will be setup, does it need to go up two flights of steps or down a hill.When going above a certain height safety railing must be added. Skirting can also be added to all stages.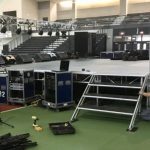 Large custom size stage
Different sizes and shapes can be selected. We can help you design it.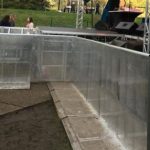 Large concert barricade
Provides professionalism and safty to any concert.
Serving Bridgeport, Brookfield, Danbury, Fairfield, Greenwich, New Haven, Hartford, Stamford, Madison, Waterbury.